Flag rugby is a non-contact game where players each wear a belt with two velcro flags attached.  Attacking players attempt to dodge and evade defenders while passing to their team mates.  Defending players prevent the opposition from scoring by pulling a tag off the player carrying the ball.  The game is a great introduction to many of the core elements of rugby and is ideal for young children.
Anyone! No experience necessary, flag rugby is perfect for new players learning the game, experienced players developing fitness and skills, and for introducing gameplay to young players
For junior and senior players: join a co-ed, flag rugby league. 
For minor players: join a minor/mini rugby program in your community.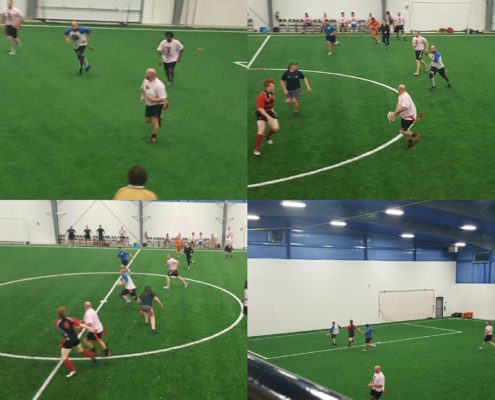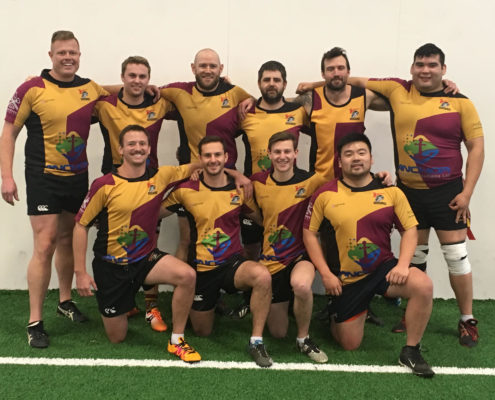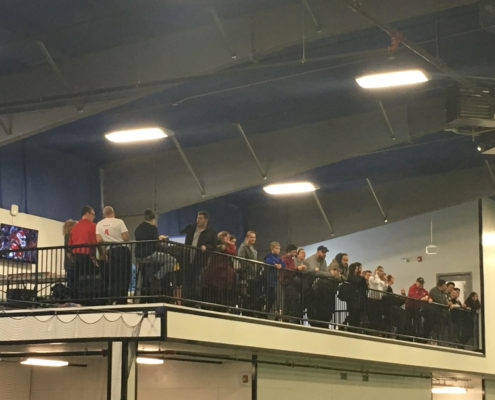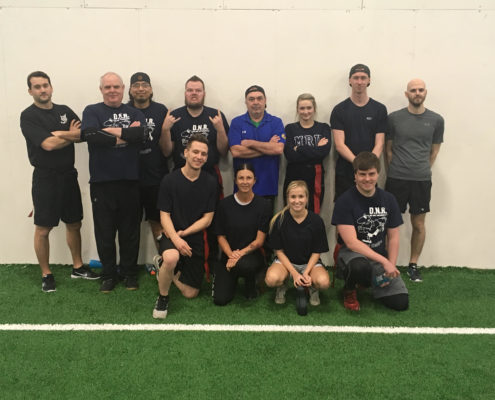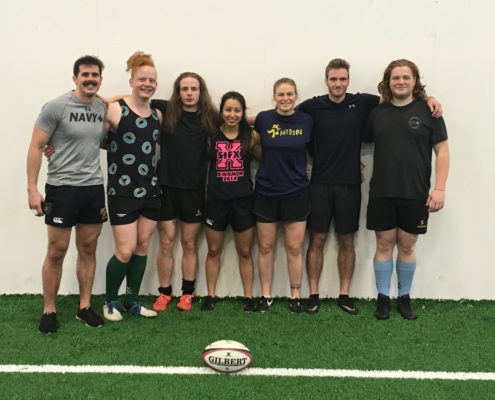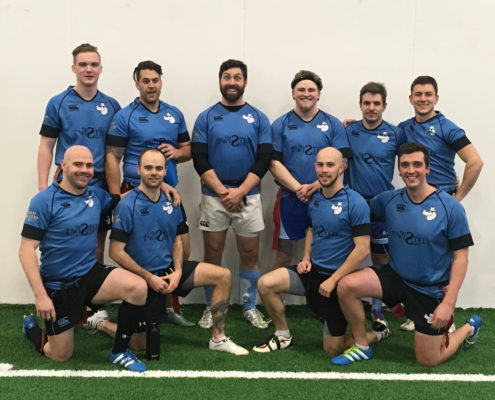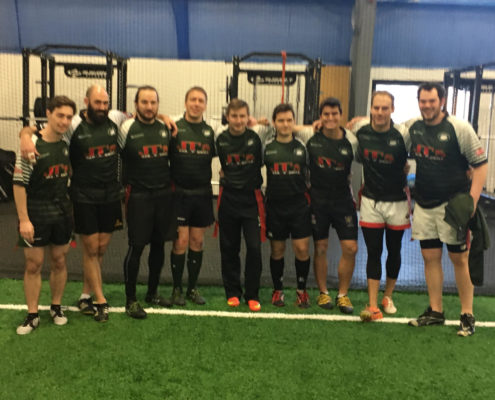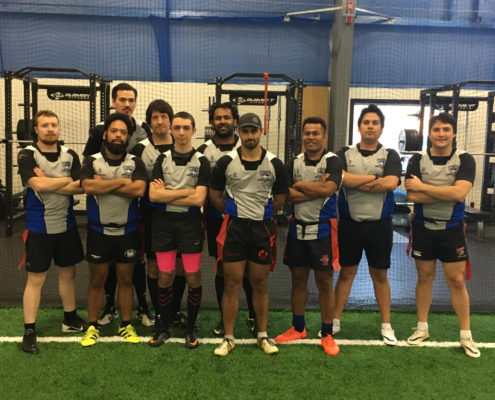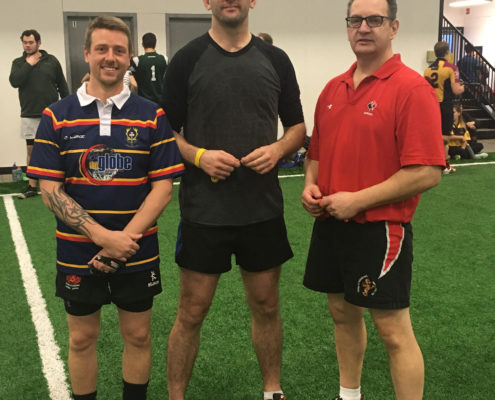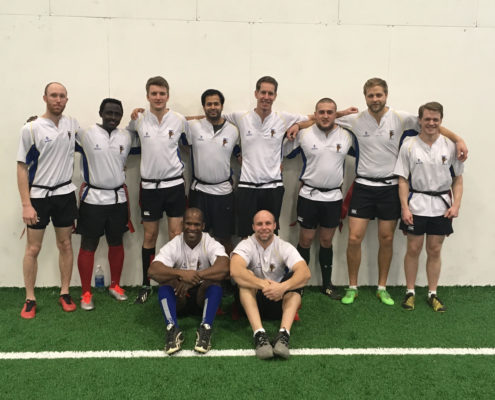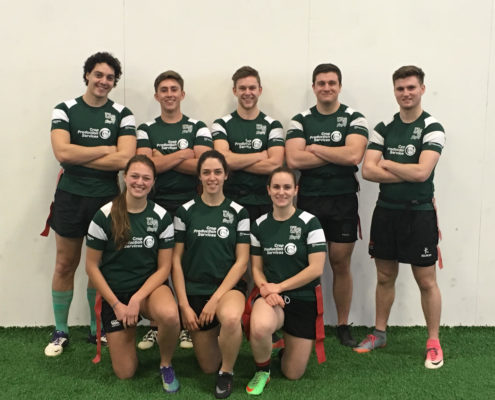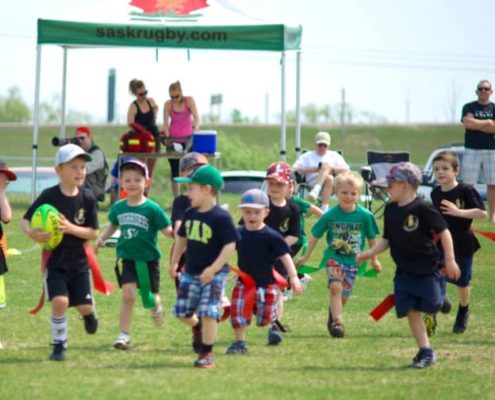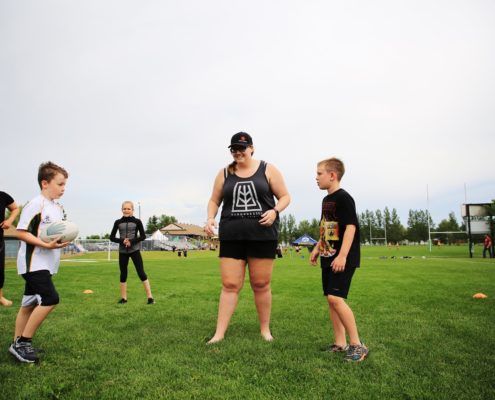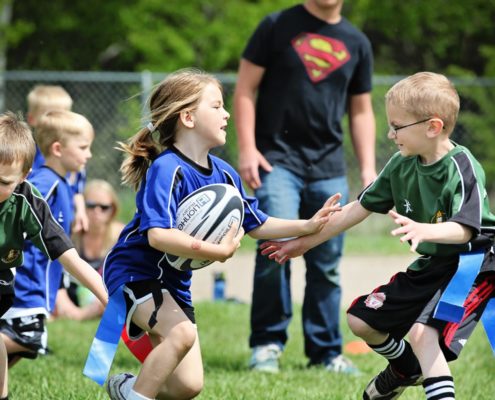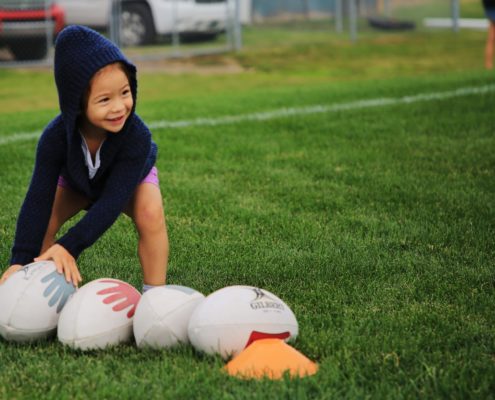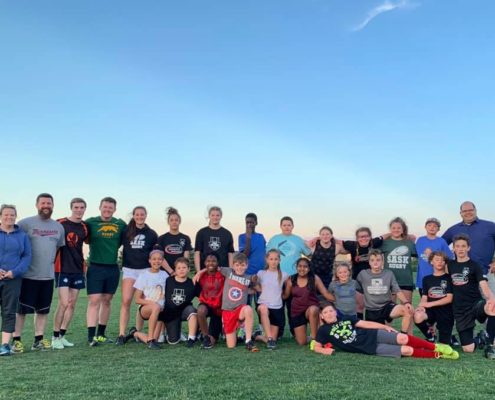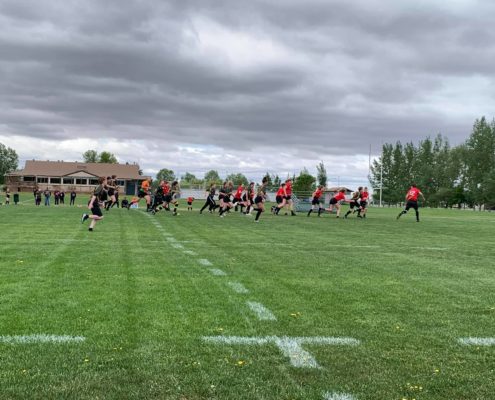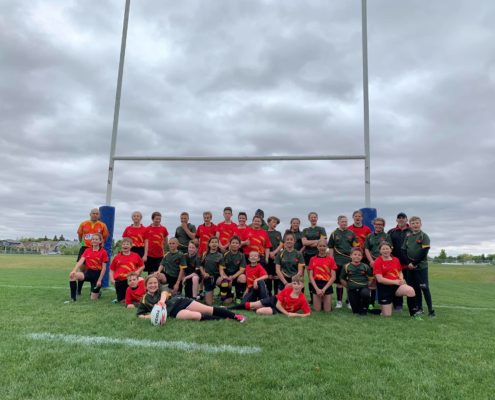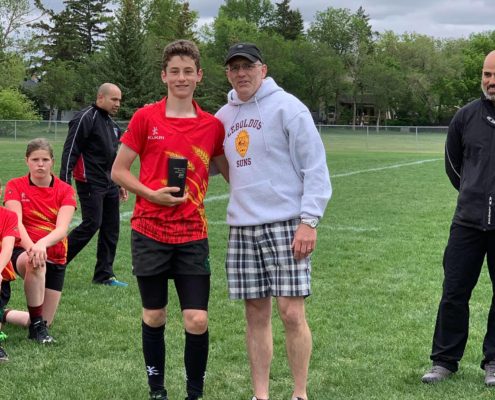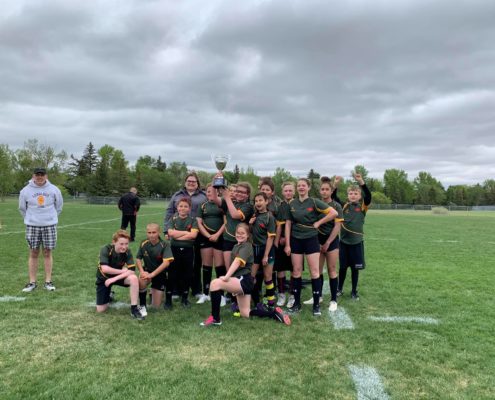 Join a flag rugby program today!
Flag rugby activities for 2022 have been organized into a 12-week season, enabling participants to get the best bang for their buck on their flag rugby registration. The season comprises tournaments and league play in Saskatoon. See the full schedule of events to the right. More information on the 2022 flag rugby season can be found below.
The tournaments and leagues on the 2022 Flag Rugby Event Schedule are designed for Junior- and Senior-aged participants (13+). This is to ensure fairness of competition and safety. If you are looking for flag rugby programming for participants 12 years old or younger, we encourage you to check out any of the Mini/Minor rugby programs on our Member Clubs page.
Are you a single player looking for a flag rugby team? Contact Sask Rugby and we will help you find one!
Saskatoon Kick-Off Tournament:
Saturday, January 8th
5:30pm to 10:30pm
Elite PROformance Centre, Saskatoon
Saskatoon League Play:
Saturdays from February 12th through March 26th*
6pm to 9pm
Elite PROformance Centre, Saskatoon
See more information on each competition's specific rules and team entry deadlines in the Rules of Play section below!
*There is no league play in Saskatoon on February 19th.
Player Registration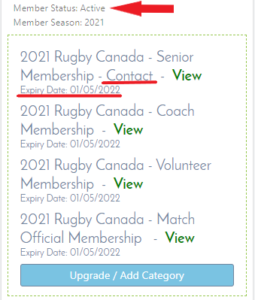 All players participating in sanctioned flag rugby activities must be registered with Rugby Canada and Sask Rugby. Only one registration will be required to participate in all of the activities on the 2022 flag rugby schedule. Depending on what rugby you have participated in since May 2021, you may already be registered so be sure to review your registration status in SportLomo and follow the instructions below to ensure you are properly registered.
If you are currently registered for a full-season playing membership (expiring April 2022) for non-contact or contact, you are properly registered and no other steps are required.

Check to see if you are currently registered by logging into your SportLomo account

HERE

and check to see if your membership is listed as "Active" and includes a playing membership (signified by the words "Contact" or "Non-Contact") with an expiry date after March 31, 2022 (see example to right).

If you do not have an active playing membership (either not registered at all or registered as a coach or referee only), we recommend registering for a 2022 12-week flag rugby playing membership which will cover the entirety of the 2022 flag rugby schedule. Players can register for this membership by following these steps:

Access the

Rugby Canada Registration Portal

.
Choose the member organization that you will be affiliated with. If you are unsure or will not be affiliated with a specific member organization, please select "Saskatchewan Rugby Club". Your member organization affiliation does not need to correspond to the team you will be competing on in flag rugby (but it helps!).
Choose the correct age category based on your date of birth and follow the required steps to complete the registration. You may need to create a SportLomo account (free) if you do not have one already.

2022 Flag Rugby Season – Senior 12-week Membership: birth years 1945-2002

2022 Flag Rugby Season – Junior 12-week Membership: birth years 2003-2010

Once you have received confirmation of your registration, forward your member ID number to the captain/contact for your flag rugby team.
Team Entry Fees
Rules of Play
COVID-19 Policies
Contacts