Sask Rugby has mapped out courses in communities across the province using the "natural" features of public parks and rugby clubs. All individuals need to participate is a rugby ball! Submit your scores using the button below to be recognized on this page for a course record or hole-in-one.
Welcome to the newest form of rugby!
Rugby golf is a rugby variation that is meant to develop the kicking and passing skills of participants, in addition to being a fun way to enjoy the great outdoors. Players advance their ball towards the "hole" by kicking or passing it using recognized rugby techniques (e.g. grubber kick, spiral pass, etc.).
Continue reading for more information about rugby golf and to find courses in your area!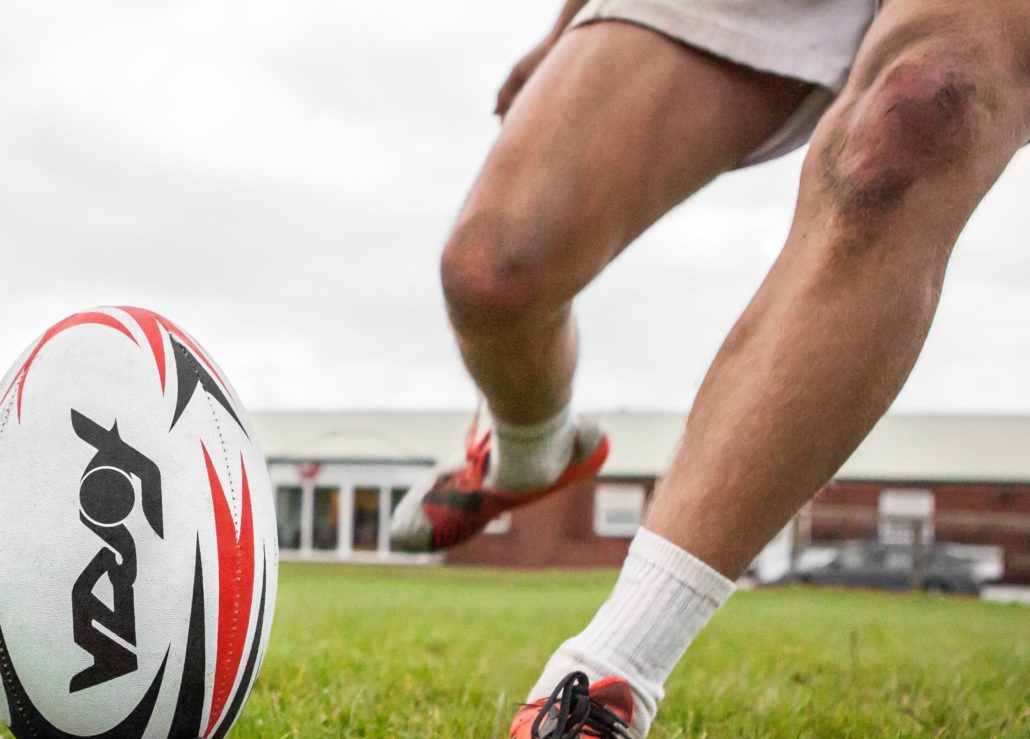 Rugby golf has a simple set of rules to make the game fair, enjoyable, and challenging. See the rules below:
Players should "tee off" on each hole using a drop-kick (the ball must hit the ground before it is struck by the player). On subsequent attempts, players may use any regular rugby kicking or throwing action to advance the ball.
For the second and subsequent strokes on each hole, players should play from the spot where the previous stroke came to rest. Players may move to gain a better angle or shorter distance as long as they can keep one foot on the ground on the spot where the previous stroke came to rest.
Courses will be laid out featuring hazards and out of bounds. Check out the guidebook for the course you are playing to know where these are. Players should do the following when they encounter a hazard or out of bounds:

Hazard: If your ball hits or lands in a hazard area, the player should add a one stroke penalty to their score for the hole. If the ball comes to rest in the hazard area, the next action should be taken from the point where the ball entered the hazard.
Out Of Bounds: If your ball goes into an out of bounds area, the player should add a one stroke penalty to their score for the hole and play the next action from where the throw/kick that went out of bounds was taken. If your ball goes into an out of bounds area, it may not be immediately recoverable. Check the guidebook for the course for information about retrieving your ball (if it can't be immediately recovered).
The safety and enjoyment of rugby golf participants is important to us. Please keep the following in mind when playing rugby golf in a public place:
When playing in a public place, be mindful of the other users of the space. You may need to slightly modify your activities, play at a faster/slower pace, or avoid playing a course/hole entirely to avoid hitting other park users if you are playing at a particularly busy time. Courses have been laid out to try to avoid conflicts with other users but participants should always use their discretion to avoid harm.
Course etiquette is important. Be mindful of any course or park rules posted on site. Be sure to observe proper golf etiquette and let faster players and groups play through. A good overview of course etiquette can be found HERE. This applies to all courses, not only those that double as disc golf courses.
Choose appropriate shots for the circumstances. Some actions pose a risk to player safety – e.g. kicking the ball at a disc golf basket at short range or kicking/throwing towards unsuspecting players – and we recommend using discretion to avoid these situations.
Do not perform unsafe actions to retrieve your ball. This could include, but is not limited to, wading into a pond, climbing a tree, or entering private property. Be mindful of the course/hole layout and play appropriate shots to avoid these situations in the first place.
If the course borders on private property or a parking lot/roadway, be mindful of avoiding damage to private property (e.g. hitting a parked car). Choose which shots you play and when you play them accordingly.
Participants should also be mindful of the current COVID-19 pandemic and the public health restrictions in place. Keep yourself safe by following these recommendations:
Play by yourself and/or only with members of your immediate household.
Bring your own equipment (ball).
Abide by any and all public gathering restrictions in your area.
Be aware of and abide by any municipal rules around the use of public parks, including possible park closures.
Make every reasonable effort to remain 3m away from any other park users during your round.
The only piece of equipment required for Rugby Golf is a rugby ball! If you don't already have a rugby ball, you can purchase rugby balls via the Sask Rugby online store. Different sizes (suitable for different age groups) and styles are available for purchase. Stock and pricing will vary throughout the year as we order new products and host sales.
Find a course in your area from the list below. Click on your desired course to see course info, course records, and to download the course guidebook.
Course distances included below are an estimate and may include the distance between holes.
If you don't see a course in your area and have an idea for a course location, contact rdo@saskrugby.com.