Age Grade Rugby rules apply to all competitions with players under the age of 19 in Canada, this includes Minor (U6-U12) and Junior (U13-U19) participants at any level. This page has the necessary information for parents, coaches, and organizers with players in these divisions.
REGISTRATION: AGE CATEGORIES
To participate in any rugby activities (training, competitions, camps) players must be registered for the correct age and contact level. Check the chart below to determine what memberships are available to players by birth year.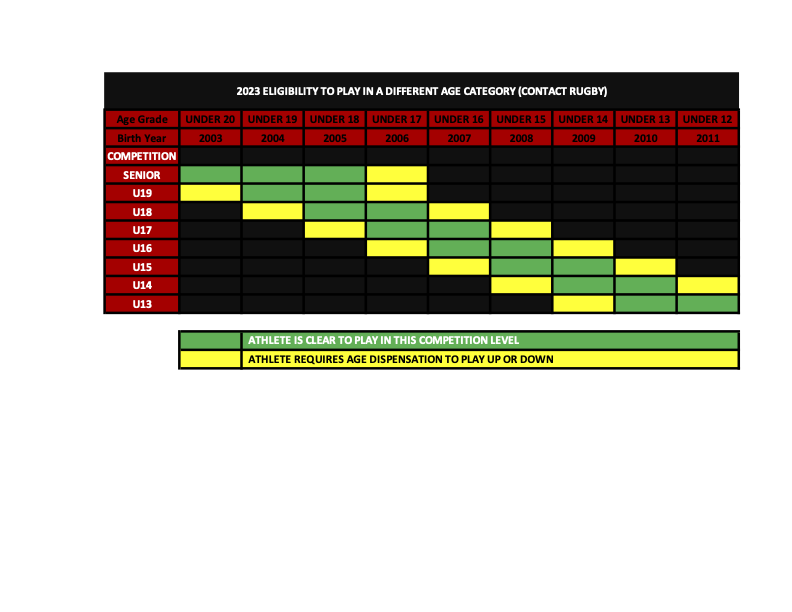 WHAT KIND OF RUGBY CAN I PLAY WITH MY MEMBERSHIP?
Minor Non-Contact (U6-U12)
Junior Non-Contact (U13-U19)
Minor Intro to Contact (U10-U12)
Junior Intro to Contact (U13-U15)
Competitions: AGE BANDING
Age bands apply to contact rugby involving Junior athletes and specify which age grade competitions players are permitted to participate in with and without dispensation. These are based on Rugby Canada's Age Banding Guidelines and World Rugby Age Grade Guidance.
Age banding does not apply to non-contact rugby activities.
WHAT ARE THE ACCEPTABLE AGE WINDOWS?
Example:
A U16 player in a U16 competition
Example:
A U16 player in a U17 competition
Example:
A U16 player requesting to play up to a U18 competition or play down to a U15 competition
To apply for dispensation within the three-year age window, follow the steps below.
All dispensations must be approved PRIOR to participation in the competition or the Player and team will void their insurance.