2023 Western Championships
Saskatchewan Rugby sent three teams to compete at the annual Western Championships in Calgary, Alberta from August 4-6th 2023. Our three teams competed against many other great teams from across Canada, fought hard and learned a lot on and off the pitch.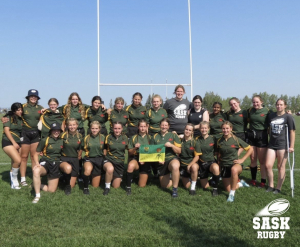 The U16 Girls team included athletes from Manitoba and Saskatchewan and was composed of: Chloe Flanagan, Rayne Youngblut, Zara Wilson, Ginger Newstead, Cyan Beeching, Abigail Hall, Kaia Nolan, Katryna Mattern, Molly Watson, Aubrey Perillat, Rayan Abdelkerim, Sarah Murphy, Tatumn Milligan, Kieran Milligan, Keeley McMaster, Felicity Sahulka (MB), Paityn Bourgouin (MB), Bella Reid, Ava Page (MB), Adeline Dunwoody (MB), Kayel LaBelle (MB), Austyn LaBelle (MB), Samidhri Galhenage, and Kendra McEwing.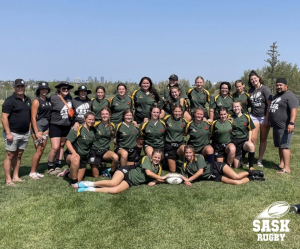 The U18 Girls team was made up of Saskatchewan and Alberta athletes named: Kathrina Klassen, Emma Dziurzynski, Kianna Gonie, Nessa Ross, Kendra Brown, Jessica Perepelitza, Emry Marchand, Shaylee Haftner-Lett, Tayler Parkinson, Erika Jimenez, Emilie Gatin, Hailey Temple, Josephine Tolentino, Raelyn Reinson, Mikayla Hamel-Sronchenski, Ella Rondeau, Nevada Weisbrod, Chloe Hedges (AB), Anela Murrel-Hebert (AB), Julia Michalczyk (AB), Larissa Atamanchuk (AB), Cass Steel (AB), Katie Share (AB), and Kiana Bryne.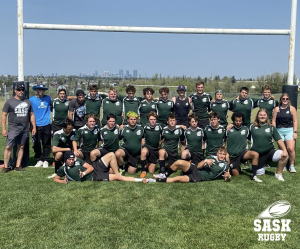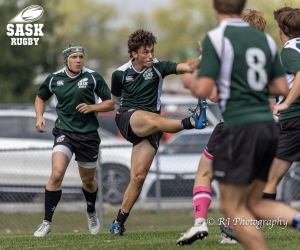 The U18 Boys team saw one British-Columbia athlete join the Saskatchewan roster composed of: Jonah Lopez, Jaru Steyl, Hunter Burant, Owen Watson, Moe Norsten, Nolan Hall, Ayden Scrimbitt, Kaden McCarthy, Bryn Rondeau, Jaxon Rondeau, Cameron Neudrof, Carter Speidel, Chance Rivers, Steven Stadnyk, Finn Grahame-King, Walker Millbury, Mason Topley, Matthew Tysiaczny, Iain Anderton-Teasdale (BC), Erik De Necker, AJ De Necker, Sam Wagner, Austin Kemp, and Ray Monks.
https://www.saskrugby.com/wp-content/uploads/2017/12/logo-1.png
0
0
Maxine O'Leary
https://www.saskrugby.com/wp-content/uploads/2017/12/logo-1.png
Maxine O'Leary
2023-11-20 12:47:50
2023-11-20 12:53:47
2023 Western Championships