Return to Play: Leaders & Administrators
Returning to rugby
As Saskatchewan eases restrictions and works towards a "new normal" for sport, Provincial Unions, Sub-Unions, Member Clubs, and all members have responsibilities in the return to play.
Saskatchewan Rugby (your PSO): Appointed COVID-19 Manager for the province to manage Return to Play for member organisations. Completed sanctioning with Rugby Canada to be able to sanction local returns to rugby.
Member Organisations (clubs, programs, sub-unions): Appoint COVID-19 Safety Coordinators who will work with each other and the COVID-19 Manager to manage a safe return to rugby. Complete the registration and sanctioning processes with Sask Rugby to receive insurance and support for programs and activities.
This page outlines how we will manage and progress in Return to Play:
Preparing to Return: Completing the sanctioning process and putting safety measures in place as per your COVID-19 Safety Plan. You should take care to identify and mitigate the risks of returning to sport for your all participants and organisers.
Managing Return: Communicating safety measures to your participants so they can make an informed decision on returning to sport and arrive at the first session ready. This includes setting up administrative measures to manage safety procedures such as Sportlomo attestations, agreements, and attendance tracking, cleaning logs, and other responsibilities outlined in the COVID-19 Safety Plan.
Ensuring Safe Return: Staying aware of risks and on-top of any COVID-19 developments such as public health orders, changes to facility access or rules, best practices for rugby training, etc. This includes a check-in with the COVID-19 Manager every 2 weeks to ensure procedures are adhered to. Resources are available on our website and the COVID-19 Manager will stay in contact with Safety Coordinators throughout the season.
Members (players, coaches, volunteers, spectators): Assess your personal and household risk, making an informed decision to return to play. Adhere to all COVID-19 rules and regulations in place from Sask Rugby, Rugby Canada, facilities, local and provincial governments and public health authorities throughout their involvement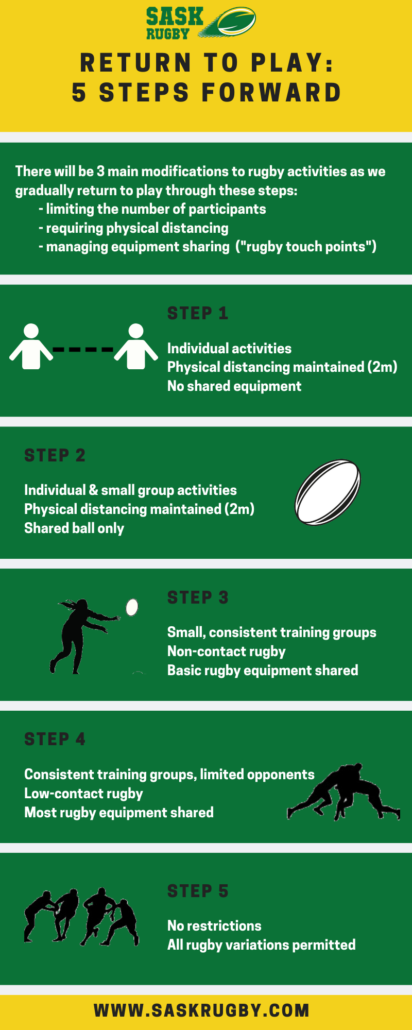 In preparing to return you should establish a point of contact by appointing a COVID-19 Safety Coordinator, get educated about COVID-19 and returning to sport during a pandemic, then go into risk management and safety planning. As part of the risk management and safety planning process, you will complete all the sanctioning documents identified here.
To complete the sanctioning process, submit all sanctioning documents to covidmanager@saskrugby.com as per their instructions, attaching any other documentation regarding your program (facility booking contract, detailed schedule of activities, etc.) identified in the Safety Plan and Sanctioning Form.
COVID-19 Safety Coordinator
COVID-19 Education
Risk Management and Safety Planning
Sanctioning Form
Additional Documents
COVID-19 Safety Coordinator
Anyone applying for sanctioning must appoint a COVID-19 Safety Coordinator to act as the first point of contact for members and the COVID-19 Manager regarding Return to Play. Their responsibilities include implementing and managing safety measures as per their COVID-19 Safety Plan, up to handling responses to suspected or confirmed cases of COVID-19 within the program. A full job description is included below. 
As part of sanctioning this person's name and contact information will be posted on the Sask Rugby website and distributed to all registrants of their program.
COVID-19 Safety Coordinator
COVID-19 Manager
COVID-19 Education
Risk Management and Safety Planning
Sanctioning Form
Additional Documents
EMERGENCY ACTION PLAN (EAP)
This plan is essential in identifying and quickly responding to medical and other emergencies, especially during the pandemic when emergencies can arise and develop more rapidly. There are templates for this plan under Resources.
Your updated EAP must include:
location of first aid kit and supplies on-site,
Emergency Services access points (i.e. how can paramedics get on the field),
assembly points,
addresses and contact information for nearest hospital and clinics,
COVID-19 First Aid Modifications and contacts,
your Enhanced Cleaning Procedures document outlining equipment and facility cleanings.
ENHANCED CLEANING PROCEDURES (ECP)
Cleaning is critical during return to play to ensure high-risk touch points such as handrails, taps, shared equipment, benches, etc. are being disinfected regularly to prevent COVID-19 transmission. Download and fill in the ECP log with the products you plan to use at your activities, including their DIN or NPN numbers (explained below).
Coronaviruses are one of the easiest types of viruses to kill with the appropriate disinfectant product when used according to the label instructions. Health Canada has published a 
list of hard surface disinfectants
 that are likely to be effective for use against COVID-19. 
Use only approved hard-surface disinfectants that have a Drug Identification Number (DIN) or Natural Product Number (NPN). DINs and NPNs are 8-digit numbers given by Health Canada that confirms the disinfectant product is approved and safe for use in Canada. Clean rugby balls in soap and water, logging the DIN/NPN of soap being used (soap is a disinfectant).
How to find your DIN/NPN:
Locate the 8 digit number beginning with DIN or NPN on your product
Look for that number of the Health Canada Lists below:
PUBLIC HEALTH INFORMATION
Organisers of in-person rugby activities must ensure coaches, volunteers, players, and parents are aware of the risks of COVID-19 and measures in place to mitigate. Sask Rugby recommends:
creating a COVID-19 orientation to share online with members prior to the first day of training,
assembling a binder of COVID-19 information to keep on-site at training,
sharing the link to Sask Rugby's Return to Play for Players page.
Whenever possible, use the Sask Rugby Public Health Information Binder or refer to the sources below. If you are distributing this public health advice always indicate the name of the source. 
Health Canada
Canadian Medical Association
Government of Saskatchewan
Public health agencies
FIELD SIGNAGE
For facility owners/operators, Sask Rugby will cover any pre-approved costs of field signage for public health information or traffic flow.
To request field signage contact the COVID-19 Manager prior to submitting your sanctioning application.
PUBLIC HEALTH INFORMATION BINDER
This collection of public health information satisfies sanctioning requirements and includes info sheets and graphics that may be useful. 
Sask Rugby COVID-19 protocols (Safety Guide) are included in the binder but we recommend adding:
your approved COVID-19 Safety Plan
your approved Emergency Action Plan
your Enhanced Cleaning Procedures log (or complete the blank log in the binder)
a detailed attendance log that tracks participant times in and out 
any other relevant documents submitted as part of sanctioning (flow plan, communication plan, etc.)
HAND SANITIZERS
Programs are required to keep hand sanitizer on-site for members, Sask Rugby can provide these free of cost.
Sask Rugby sanitizers and NPNs:
HealthWorks, hand sanitizer, NPN: 80100811
Germs Be Gone, hand sanitizer, NPN: 00102627
Smooth 42 Craft Distillery, CRE8 hand sanitizer, NPN: 80098008
To request sanitizers contact the COVID-19 Manager
prior to submitting your sanctioning application
and use the NPN numbers above to complete your ECP.
MEDICAL MASKS
Coaches and officials are not considered close contacts (or counted in training group sizes) unless they come within 2m of participants or could potentially come within 2m of participants during an activity. If coaches/officials are instructing contact or unable to remain physically distanced on the field, they must wear medical grade masks.
Sask Rugby will provide medical masks free of cost as necessary. To request medical masks contact the COVID-19 Manager.
Once you are approved for sanctioning, you can set up Sportlomo registration, your system for collecting attestations and tracking attendance, and your required COVID-19 update to members.
Once all these systems are in place you are ready to deliver in-person rugby activities according to your sanctioning agreement.
Online Registration
Attestations & Attendance
Member Communication
Online Registration
Your sanctioning application will determine the membership categories opened for you on Sportlomo this season. Set up your registration and direct members to the links below. For any help with Sportlomo setup, got to www.saskrugby.com/registration or email memberservices@saskrugby.com.
All participants must be registered on Sportlomo prior to attending any in-person rugby activities. This applies to players, coaches, therapists, and officials. Registration includes a Participant Agreement that has been updated to explicitly address the known risk of COVID-19, it's most important that registration is completed by the participant or the participant's legal guardian.
Attestations & Attendance
Member Communication
SELF-ASSESSMENT /SCREENING
Provide a COVID-19 self-assessment link to all members upon registration/prior to the first training session (pre-integration). This is to get them thinking about their baseline and be able to more easily identify changes and potential symptoms.
Distribute either of these links to your members:
Anyone with a history of "COVID-19 like" illness or close/sustained contact with someone with similar symptoms should not enter the training environment for at least 14 days after the last contact or 10 days post symptom resolution with medical clearance provided to Sask Rugby.
Once you start delivering in-person activities, as per your COVID-19 Safety Plan, you must stay up to date on relevant COVID-19 information (public health orders, outbreaks, changes to best practice), collect attestations, and track attendance. 
The COVID-19 Manager will monitor all safety measures to ensure adherence to your Safety Plan, failure to adhere to COVID-19 related rules will result in immediate and complete cessation of all rugby activities and removal of all access to club facilities until rectified.
COVID-19 Safety Coordinator
Biweekly Safety Checks
Contact Tracing
COVID-19 Safety Coordinator
Your COVID-19 Safety Coordinator has the following responsibilities throughout your season (unless transferred and specified in Safety Plan):
Monitoring and storing all attestations and agreements
Ensuring adherence to the approved Safety Plan (i.e. cleaning, group sizes, etc.)
Acting as first contact for members reporting suspected or confirmed COVID-19 cases
Notifying COVID-19 Manager of suspected or confirmed cases and helping notify close contacts from activities and any relevant public health authorities 

as per Safety Plan protocols

Staying up to date on COVID-19 updates and information (from COVID-19 Manager) and sharing these with the organisation
Safety Coordinators will receive regular emails from the COVID-19 Manager, it is important they review all updates and notify programs of any changes to their Safety Plan. All updates will be posted on the Sask Rugby Return to Play COVID-19 Resources page.
Biweekly Safety Checks
Contact Tracing